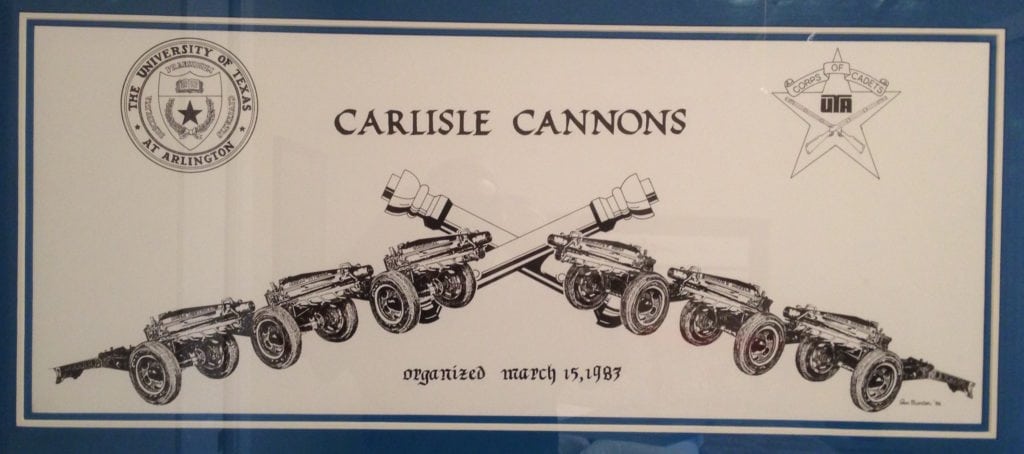 History of the Carlisle Cannons
Founding of the Carlisle Cannons
In 1982, while serving on the cadre of the ROTC department at the University of Texas at Arlington, I came across some information referencing a cannon that the university had called "Little Bertha". After determining that the cannon (s) over the years were very much a part of the university and its spirit, and being an artilleryman myself, I thought that it would be appropriate to try to replace the cannon and resurrect the history and spirit of Little Bertha (and Roaring Rebel, reported to be another cannon that the corps of cadets had in the past).
We began a search for a muzzle loading cannon, but determined that they were too expensive to purchase and we had no other way of obtaining one. On a whim, I contacted the US Army Armament and Munition Command at Rock Island and explained what I was trying to do. They referred me to Picatinny Arsenal. Picatinny told me that each ROTC detachment, upon approval, was authorized a Pack 75 howitzer, but none were currently available. They did tell me that some had reportedly been found in Japan and were going to be shipped to Picatinny Arsenal to be demilitarized. That I could contact them in about a year if I was still interested.
Almost a year later, I came across the notes that I had from my previous discussions with them and contacted Picatenny again. Luckily, I talked to the same individual that I had discussed this with a year earlier. He said that he had 126 howitzers in the demil process. I needed to work through Letterkenny Arsenal and Rock Island in order to received permission to receive one. After a lot of paperwork and phone calls, we received permission to receive the "donation" of the howitzer. I then contacted Picatinny with the approval and paperwork. They said that I had to submit a requisition through channels, but we had the lowest priority on the requisition (a 13).
All of that being done, I received a phone call from Picatenny that the requisition had been approved and how many howitzers did I want. I told them that we were authorized one. They said that was fine, but how many did I want. Being a true artilleryman, I told them that a 6 gun battery would be great; thinking that it would not be approved. The next week, we received shipment of 6 pack 75 howitzers (3 each on two flatbed trucks). They came in on a priority 3 requisition. I have no idea who changed the requisition priority.
We then began the process of getting approval from Ft Hood for the 75mm blank ammunition. That proved to also be a challenge, but eventually Ft Hood approved our request to keep us supplied with blanks, as we needed them. We also procured the blank adapters that allowed each howitzer to fire shotgun shells on those occasions that the 75mm blank was too much.
While all of this was going on, the cadets that were interested began forming the gun crews and an organizational structure. The name Carlisle Cannons was selected. Obviously, the first cannon was named Little Bertha IV and its crew was called the "Bull Pen", maintaining the history of the past. Eventually, all of the guns were named; Roaring Rebel III, Molly Pitcher (from artillery lore), Gabriel, McAuliffe's Reply, and Munden's Muzzle (I was honored, but a better name could have been selected). The Carlisle Cannons were officially organized March 18,1983.
The cannons became very popular. They fired at all of the football games and obviously at Corps events. They also participated in official ceremonies for the Dallas Council on World Affairs (thanks to MG Latham), 1812 Overture with the Ft Worth Symphony, welcoming reviews at Sheppard AFB and Carswell AFB, various Dallas and Ft Worth parades and major high school ROTC functions. In order to provide the dignitaries with a remembrance of the salute, I was able to get full charge, empty brass canisters (free) from the National Forest Service, who use Pack 75's with live ammunition for avalanche control. The cadets would clean and polish the canisters and I would engrave them with the UTA ROTC crest and the individuals name with the date of the event.
The Carlisle Cannon cadets had red satin jackets made with their name and Carlisle Cannons with crossed cannons silk screened on them. They also received permission to wear a crest, that they designed, on their uniform and a red cord on their class A's.
The Texas National Guard provided either jeeps or flatbed trucks to transport the cannons to the events or pull them in the parades.
I was sad to hear that sometime later, the cannons were disbanded and then given away.
LTC (Ret) Ron Munden, Commandant of Cadets, 1981-84
Updated History of the Carlisle Cannons
On March 15, 1983, the UT Arlington Corps Cadets organized the "Carlisle Cannons" with six 75mm pack howitzers. UTA became the only Army ROTC unit in the nation with a salute battery.
Each of its six cannons was named after a significant period in University's history:
o Little Bertha

o Molly Pitcher

o Gabriel

o McCauliffe's Reply

o Munden's Muzzle

o Roaring Rebel III
Annual events for the Cannons included firing at the Ft. Worth Mayfest each Spring, firing during Homecoming events, firing during the Graduation Celebration, and during the Corps of Cadets Alumni Council's Hall of Honor
By 1997, the Carlisle Cannons had become a consistent presence in the community, with 24 annual events on campus and the Dallas/Fort Worth area. At each event, all six cannons were used.
After the events of 9/11, the Carlisle Cannons were disbanded in 2002; five of the six original cannons were laterally transferred to the U.S. Army by the Professor of Military Science in 2001.
After a three-year hiatus, the military science department announced its intent to reinstate the Carlisle Cannons in fall of 2004.
In spring 2005, University President James Spaniolo officially announced the return of the Carlisle Cannons. The Carlisle Cannons fired its first shot since 2001 on Friday, May 13, 2005 at the UTA's first commencement convocation.
Fall 2005 – UT Arlington retrieved Cannon #2 from New Mexico Military Institute.
Fall 2009 – UT Arlington retrieved Cannon #3 from Texas Tech
Spring 2010 – University funded the purchase of a trailer for our cannons in 2010
Thanks to Jeannie Deakyne, UTA graduate, AG officer, former cadre officer and CCAC Life Member for the above update.