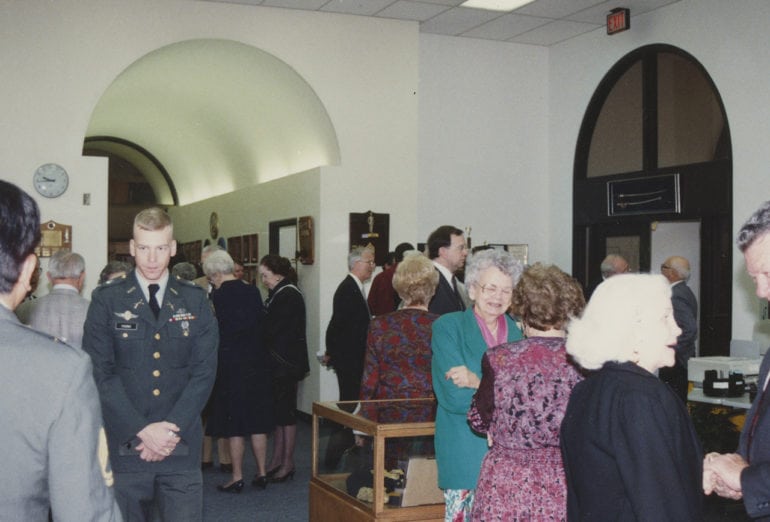 The Hall of Honor induction ceremony in the 1981-84 time period generally preceded a football game. It included a Corps of Cadets ceremony in front of College Hall with the induction and finished with a pass in review.
After the ceremony, there was a reception held in the foyer and main office of the Military Science Department (first floor of College Hall. For a couple of years, I was able to display the military aviation art work of a friend of mine, Mr. Ray Waddey. At the time, he was residing in Arlington. He allowed me to display over 125 of his original pieces of art in College Hall. What was unique and of great interest to many of our Army Air Corps alumni, each piece of art was of a specific persons aircraft and each piece had the original signature of the pilot.
For example, the Memphis Belle signed by the entire crew and the lady that it was named after; several different aircraft signed by Chuck Yeager; Pappy Boyington's Flying Tiger and his Corsair, Jimmy Stewart's WW II bomber and his B-52; Gunther Rall WW I and WW II aircraft, Hiroyoshi Nishizawa, Erich Hartmann, and many others. After the first year of display, we had a much larger number of attendees the following years that came to see the paintings.
As I was departing, Ray moved to Tennessee and then to Florida. He currently resides in Dunnellon, Florida, but sold his paintings to the Warbirds museum in Kissimmee, Florida and they were later auctioned off in a bankruptcy sale of the museum.
Info from LTC (Ret) Ron Munden, Commandant of Cadets, 1981-84